Years ago, when I graduated from college, my first apartment had a window in the shower area.
It was the 90's and the apartment was probably built in the 50's.
The bathroom was small – and green. And we thought it was kind of a weird window placement. But the window was high and we also were on the second floor – so privacy wasn't really a worry.
However, I was happy to move on to future showers without windows.
So, when we remodeled our bathroom recently, I was kind of annoyed that there was no way around window in the shower situation.
Download Your Copy!
FREE 2019 Printable Calendar
Simply fill out this form to gain access to the checklist. Subscribers enjoy full access to our members only Resource Library printables, checklists, and files. See our Privacy Policy
It just is not ideal.
Depending on the view that you have looking out – people standing outside will most likely have a similar view looking in.
And hanging up a blind or a shade is not really an option because of moisture issues.
As you can see, our window – unfortunately – falls smack in the middle of the shower.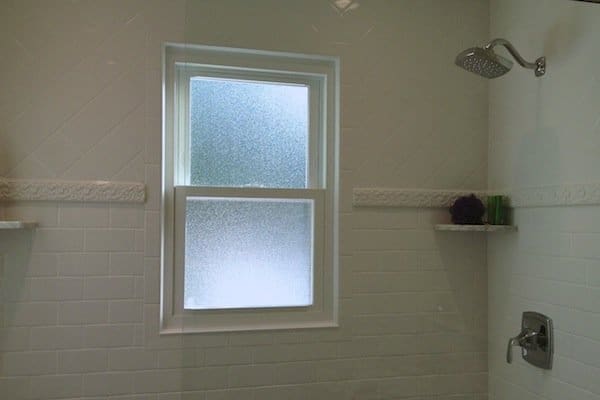 Looking back, it all worked out. But at the time, I had to find a practical solution to this problem.
I also learned a thing or two along the way.
Frosted Glass and Obscured Glass Are Different Animals
As a total novice – my first suggestion to my contractor was to put in some kind of frosted glass replacement panels. It seemed logical.
However, the glass guy put me straight on that one.
The problem with frosted glass is if the frosted side gets wet – the glass magically becomes quite transparent. You can see out and people can see in.
If the frosted side was inside – that would never work. If the frosted side was outside, you might be ok except during a rain shower.
The better choice, I learned – is something called obscured glass.
Obscured glass has a kind of textured side that obscures the view. Is it 100% opaque – no. But it's the best choice that I found. I have read on some glass manufacturer websites that you can choose the degree of obscurity. I was not offered that option on my order – but it might be something to look into.
Privacy Concerns at Night
For me, the obscured glass was a great option for the shower but I still had concerns.
During the day – it is near impossible to see anything inside the bathroom from outside. But at night, when it's dark outside and the lights are blazing inside you really can see someone standing right in front of the window.
To solve this problem I turned to Home Depot.
Here I discovered something called window film. It comes in many different brands, patterns and obscurity levels. Think of it as a huge vinyl cling that covers your whole window.
Since the textured side of my window faced out and the smooth side in, applying a window film was an easy option.
I purchased a brand that is applied with only soap and water. No adhesives, nothing sticky. So, if it didn't work out then it would be easy to remove.
To get a better idea of what I chose you can look here: Artscape Etched Leaf Decorative Window Film at Amazon.
It adds just another level of privacy on top of the window in the shower that is already obscured.
Another common sense tactic is to install a dimmer switch on your bathroom lights. If you take a shower at night then dim the lights. Not only will you get a little more ambiance – but you will gain some privacy too.
Order Tempered Glass
Whatever you do, remember to order tempered glass panels for your window in the shower area.
God forbid the window breaks while someone is in the shower, at least they won't be hurt by shards of sharp glass. Tempered glass still shatters but the edges of the pieces are smoother.
In fact, this is probably code in most areas.
Water Resistant Window Frame
If you are redoing the shower area itself, the window frame causes a problem too.
Obviously a wood frame is out of the question.
I really wasn't sure what options were available.
I asked my contractor and he created a solution by installing Azek trim
around the inside of the window.
This composite trim will not rot from repeated exposure to moisture.
And if he installs it by angling it away from your window you will eliminate the possibility of standing water on the window sill. Caulk it up and make it water tight – again a good carpenter that is skilled with Azek is priceless.
And there you have it – some practical suggestions for dealing with an awkward design dilemma.
Do You Have a Window in Your Shower?
How do you deal with privacy and moisture issues?
My obscured glass is shown above without the window film – just to give you and idea of what that type of window looks like.
Leave a comment below and tell us about your situation.
Other Bathroom Decor Ideas
I opted for this free standing toilet paper holder instead of wall mounted – because I did not want to put holes in the tile. Bonus: it's easy to change the roll too.
I'm kind of a neutral person (if you haven't guessed by now) but I chose to dress up the cream tile in this shower with glass tile accents. It makes a sharp contrast, but I do like it.
Also, a nice option for bathroom walls is a tile wainscot. Check out the wainscoting done with subway tiles here.
More Home Renovation Ideas
Well, we are at it again.
This time we are doing a complete kitchen remodel.
If you would like to follow along with our kitchen renovation here are a few articles:
Pin It