10 Organizing Tasks You Need to Squeeze Into Each Day
This post may contain affiliate links which means I make a commission if you shop through my links.
 Disclosure Policy
The only way to really control clutter in your life is to do certain organizing tasks on a daily basis.
When you keep up with decluttering, it doesn't become a huge chore.
I used to dread spending time in the kitchen – because whenever I needed a dish, it would be in the dishwasher and the dishes would be dirty.
Same with the laundry – it would be stressful when what I wanted to wear was not clean.
Over time, I began to realize that if I did these things every day on a schedule, my home would run like a well oiled machine.
My stress levels went down and I felt more in control.
These are some of the things that I did.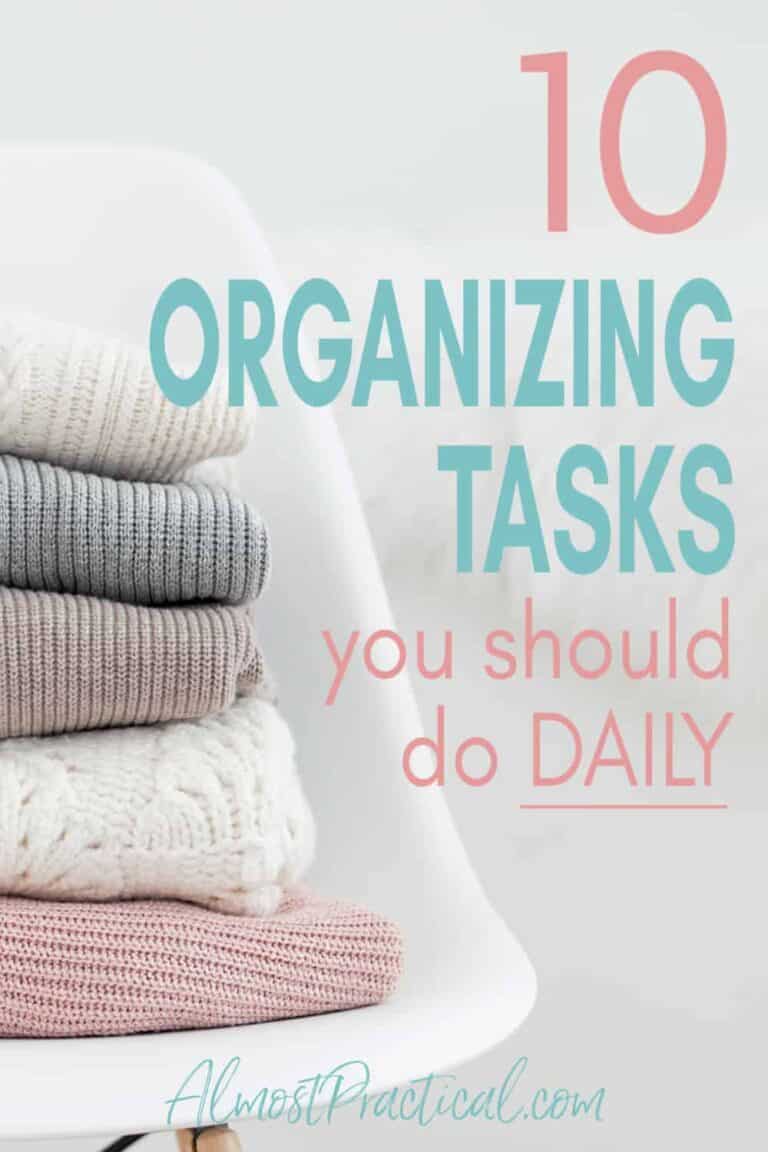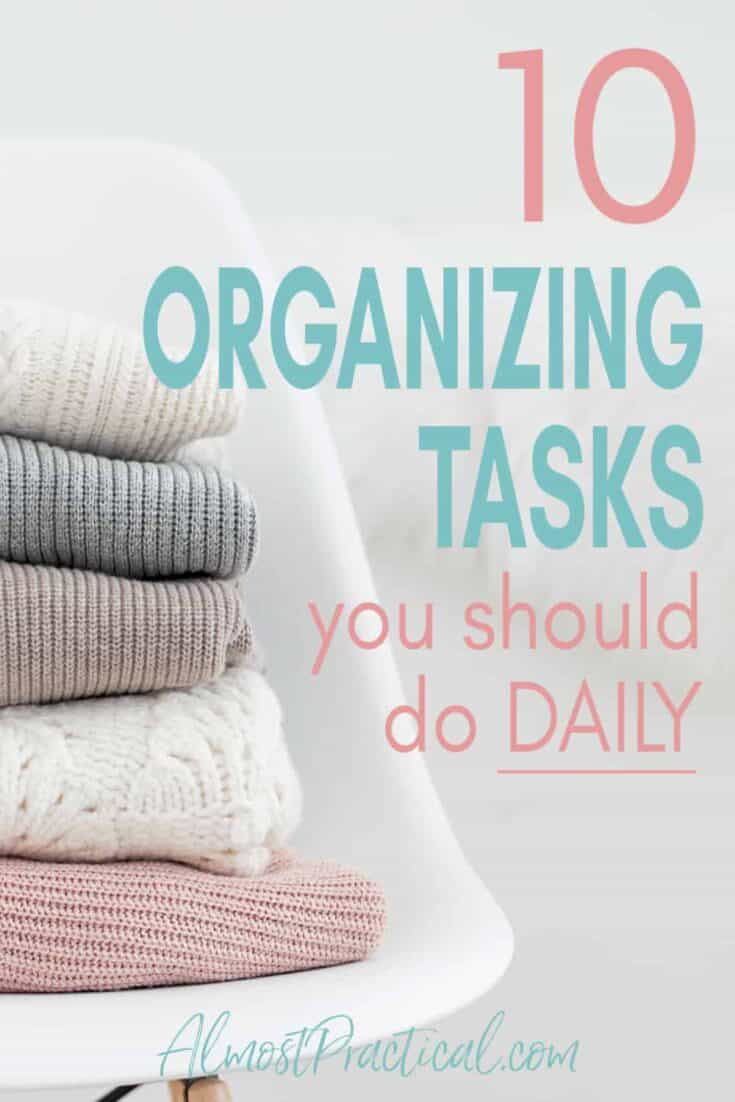 How to Organize Daily Tasks
Here are 10 organizing tasks you can do daily to keep life running like a smooth oiled machine.
1. Manage The Dishwasher
Run the dishwasher at night and empty it first thing in the morning.
Yes, before your first cup of coffee!
This way the dishwasher has plenty of available space during the day to take on the dishes that your family uses all day long.
2. Control the Laundry
Collect dirty laundry the night before laundry day. (If everyday is laundry day in your house, then collect the dirty laundry nightly.)
In the morning you will be ready to start a load as soon as you empty that dishwasher.
3. Don't Let the Snail Mail Pile Up
A synonym for snail mail is "recycling".
Sort your mail as soon as you bring it into the house.
Throw away the junk, and separate the rest into just a few separate piles or inboxes (one for bills, one for filing/scanning, one for shredding etc.)
4. Clean Out Your Email Inbox
Once a day, take your email inbox down to "inbox zero" – If you clean it out on a daily basis, you will never accumulate too much.
Clean up your Gmail by creating filters.
5. Clean Off the Kitchen Countertops
The kitchen is the hub of our house and the counters get cluttered quickly.
I like to start the day with clean counters, so at the end of each day – I do a quick sweep of everything that doesn't belong.
It makes for a less stressful morning.
Related Article: What Does Organizing Really Mean?
6. Make Time for Planning
Every evening review your calendar and to do list for the next day.
Jot down any "to do" items that have not yet made it to your list.
Prioritize your top three tasks for the next day. And plan your meals for the next day.
Currently, I use the an Erin Condren LifePlanner to help me with this organizing task.
7. Organize Your Handbag or Wallet
Every evening, empty out the receipts, etc. that you have collected throughout the day.
Sort these in the same way as your mail.
By doing this daily, you will keep your bag clutter free and probably have a better handle on how much cash you have in your wallet.
If you find that your purse is always a big black hole – use these tips to help you organize your handbag.
I also use a purse organizer like this one to keep things in order.
Related Post: How to Organize Your Hobo Style Bag
8. Running Grocery List
Keep a running grocery list. Add things daily that you run out of.
One of the things that the Amazon Echo can do is add things to your grocery list. It's really cool.
You just need to tell Alexa to add something to your grocery list. It's that easy.
I have been training my family to use the Echo Dot to add things to our family grocery list whenever they run out. This way it's all there when I head to the store.
9. Clean Off your Computer Desktop
Don't let files clutter up your virtual workspace. Use these tips to help you organize your computer desktop in 5 minutes or less.
And while you are it, this is how to organize your desk at home or at work, too.
10. Don't Forget to Read
Build some time into each day to catch up on reading.
I have a small "to read" pile of actual books and magazines, and a virtual notebook in Evernote of articles that I want to read online.
My Kindle is also filled with titles that I have not read yet.
If you don't make time to read daily, your reading list will become unmanageable.
What Organizing Tasks Do You Tackle Daily?
I start my day by emptying the dishwasher and end the day by turning the dishwasher on.
In between I find time to manage the laundry, process my email, snail mail, and my computer desktop, clean off my countertops, plan my time, organize my purse, make my grocery list, and take a little time out to catch up on reading.
These tasks are what is important to me – but your list of daily tasks might be different.
Leave a comment below to let me know what tasks are on your daily list.
Also, be sure to subscribe to our Organizing Newsletter to get our latest posts, tips, and resources directly in your inbox.